The International Logbook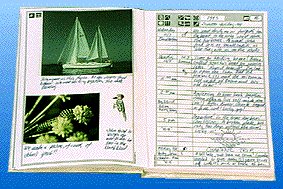 Symboles - A brand new concept
---

This is the Logbook made for adventures.
Not only the skipper will find this Logbook interesting but also the whole family and your friends. A picture says more than a thousand words - here are opportunities to use both sketches and photos together with thousands of words...

We have made this book to help you remember your adventures, bothgreat and small. But we have done even more, xx
These are clear and an inspiration for your own use but also c lear if you give the logbook to e foreign freind. As an aid we hence suggested xx each of the symbols in eight langauges.

See also the chart ruler SureOnline and the artful holder SureFix!
The SureLog has a beige colounal artifical lether cover
Daily notes
The most of the book consists of pages for writing down and illustrating your advetures.

Cash-book
A section in the logbook is for noting down fuel costs, mooring charges xx so that you can check the cost of your holiday...
Special charts
At the back of the book there are some tear out pages. These can be used to sketch an anchoring place, details of a special sailing course etc. When tour out the pages can be placed in anA5 plastic pochet for futher use onboard. The logbook itself will sooner or later end up in your book care at home.
Cover
On the spine of the cover there is an area to write down the No. or year of the Log-book. Inside the front cover there is a symbol explanation.

Size 240 x 170 mm, 72 pages. Article No. 20061

.
.


---
Have lots of grand adventures - for future memories!
The Most Valued Book In The Bookcase!

---
021112