Tarpaulin eye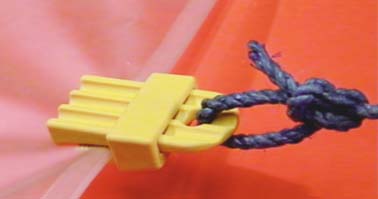 Then using SureHoldon, there are no problem to get just the right fixing, put it close to the strap point.Suits perfect for use, along the tarpaulin edges, but also to shorten the area to give a smoof stretch. This tarpauling eye is easy to put anyware, without cutting, making a "rocky" grip, but also easy to take out . Using the wedge's "backs-ide"it run for real thick fabric.

· Simple mounting
No tools needed.
· Secure
Works in all kind of weather.
No sharp edges.
· Exellent
The grip is stronger than the tarp
itself.
· Strong
Made of fiberglass injected nylon.
· Wide range
The tarpauline may be folded
several times.
Put the tarpaulin over the groove of the
sleeve part and put the wedge
through the sleeve and push together.
Tye a sutible rope at the wedge.
Note, there are a slot at the inner part
of the groove, to make roome for a
thicker edge of the tarpauline.
Nock out the wedge when
demounting. If nessesary, a hammer can
be of use..
If the wedge turnes with the rails
towards the grooves, the SureHoldon
take thicker tarpauline cloth .

| | |
| --- | --- |
| Artikle No. | 20071 |
| Material | Fiberglass injected nylon |
| Fixing area | 20x30 mm |
| Pulling force | Stronger than the tarp. |
| Temperaturområde | - 40ºC to + 80ºC |
| Packing | 2 off, blister |
---
021104